A Richard Emsley portrait CD was released by METIER Records in March 2002. Performed by the contemporary music ensemble TOPOLOGIES the programme includes early ensemble works such as the wild and virtuosic The Juniper Tree, as well as more recent compositions such as the contemplative and finely-textured music in the for piano series.
The CD can be purchased from Métier, Amazon.co.uk, Amazon.com, or at most good record shops.
flowforms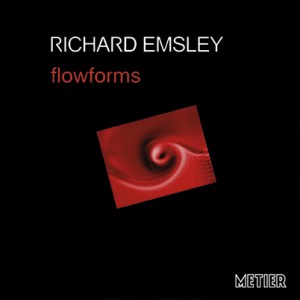 Helter-Skelter
Flow Form
for piano 3
…from swerve of shore to bend of bay…
finnissys fifty
for guitar 1
for piano 2
The Juniper Tree

performed by TOPOLOGIES:
Clare Lesser (soprano), Nancy Ruffer (flute), Christopher Redgate (oboe), Guy Cowley (clarinet), Julian Warburton (perc), Alan Thomas (guitar), Ian Pace (piano), Bridget Carey (viola), Betsy Taylor (cello), Mikel Toms (conductor).
released March 2002 on METIER MSV CD92044
The Sunday Times, 21 April 2002
"These eight works reveal this British composer (b. 1951) as an elegant neomodernist of the New Complexity school. The expressionistic flurries of notes characterising this style tend here to be transformed into something more static and ornate. Flow Form, a piano solo played by Ian Pace, is a beautiful ice formation, for piano 3 is still more tranquil, and Helter-Skelter is definitely a misnomer: this 13 minute movement for flute, vibraphone and piano is a diaphanously rotating mobile, though intricate enough to need a conductor. The two-minute Finnissys Fifty is a tribute using just 50 notes; and the 23 minutes of puppet-theatre music, The Juniper Tree, show how invigoratingly Emsley can drive a piece forward when he wants to." Paul Driver
Music Web, April 2002
"The earlier works in this selection were both written in 1981 but are very different in many respects. Helter-Skelter, for a Feldmanesque ensemble of flute, vibraphone and piano, moves fairly slowly throughout, the three instrumental lines following each its independent course with little if any synchronisation, hence the title. The piece however is fairly contemplative. In total contrast, The Juniper Tree for soprano and four players (flutes [1 player], oboes [1 player], percussion and piano) is based on one of Grimm's "goriest" tales. The music here is relentlessly violent, almost frantically so, and terribly demanding. A quite impressive achievement in its own right, though it is a difficult piece to come to terms with.
…from swerve of shore to bend of bay… (1985) for small mixed ensemble is yet another contemporary work of art inspired by Joyce's 'Finnegan's Wake'. Again the music is very active and tests the performers to the extreme. (It was composed for the Fires of London.) The piece is overflowing with relentless activity suggesting furiously overlapping waves.
All the other pieces are for a solo instrument, either piano or guitar. Flow Form (1987) for piano, which gives this release its collective title, is a beautiful study in fluid piano textures, whereas for piano 2 and for piano 3, both from 1997, are to a certain extent more experimental, i.e. from the formal point of view, and have much in common with for guitar 1 (1998). These pieces have much sparser textures with fairly long pauses between the various episodes, but are remarkably written for the instruments. Finnissys fifty (1996) is a short homage to Michael Finnissy on his fiftieth birthday, and is comparatively much simpler.
This release is a typical METIER product offering a fairly comprehensive composer's portrait performed by dedicated players who have long been involved in Emsley's demanding but thought-provoking music. No light easy stuff, but well worth the effort." Hubert Culot
Classical London, May 2002
"Here is a real one-off composer and this intriguing programme in celebration of his 50th birthday last year is a perfect introduction to his various moods. He is intrigued by time and timelessness, and often the music seems to wander improvisationally, with sounds hanging in the air and long pauses for reflection. In Helter-Skelter flute, vibraphone and piano go their separate ways independently, and the fascinating, iridescent Flow Form, one of three pieces for solo piano, has 'fluid, glistening material', its 'liquidity overflowing' from one section to the next. … from swerve of shore to bend of bay… has rich 'waves' of sound, the title from Finnegans Wake. The Juniper Tree (music for a shadow puppet play on one of Grimm's nastier fairy tales) is a more dramatic piece for seven musicians. Excellent playing by Ian Pace and the Topologies ensemble, well recorded by David Lefeber as one can take for granted with Metier." Peter Grahame Woolf
The Wire, June 2002
"The pianist Ian Pace describes Richard Emsley's (b.195l) music as "transcendental rather than escapist", before issuing a polemical directive against the prevailing mainstream tendency in British music that finds Emsley's ilk so difficult to stomach. Emsley himself seems to have a decidedly anti-careerist bent – after the composition of his remarkable solo piano work Flow Form in 1987, he withdrew from the scene for ten years to consider the implications of its sparse textures and sprawling liquidity. When he returned in 1996 with a piano piece to mark the fiftieth birthday of Michael Finnissy finnissys fifty, the music had even sparser surfaces but with deeper structural undercurrents. Pace's performances make a powerful case for these works and the later for piano 3 as being unreasonably neglected. Two fine ensemble works complete the disc. …from swerve of shore to bend of bay… has a painterly quality as different instrumental lines ooze against rigid landmarks, while The Juniper Tree is quite simply one of the wildest and unrelenting musical experiences I've heard." Philip Clark
Music & Vision, November 2002
"Richard Emsley's world is one of textures, delicate like filigree, sharp edged, shimmering bright like the surface of slow moving water that keeps catching a radiant light, the sheen changing constantly and vanishing just as swiftly.
He was the co-founder of the London new music ensemble Suoraan that was active and influential particularly in the early 80s, an ensemble that brought together the extraordinary exploratory technical brilliance of flautist Nancy Ruffer, oboist Christopher Redgate, Michael Finissy, piano, the soprano Josephone Nendick and John Harrod playing percussion.
The earliest piece in this fascinating retrospective Emsley CD is the substantial (23 minute) puppet theatre piece The Juniper Tree which appeared in 1981, designed for that original group, and here performed by Topologies that includes Ruffer and Redgate, with Ian Pace, piano, Clare Lesser the wordless soprano and Julian Warburton, percussion. Though based on a singularly bloodthirsty Grimm fairy tale (how horror excites children!), it can be heard, in this 'concert' version, like a sunrise glittering through broken glass moving gradually into a series of energetic cadenzas.
The other two substantial pieces are from the same period, yet show a very different side of Emsley's musical imagination, though it is clearly the same composer at work. Helter-Skelter is for flute, piano and vibraphone and is a quiet, highly elaborate texture, weaving together the three independent instrumental parts.
This style of pianistic patterning is persued to contrasting ends in the shorter pieces Flow Form and for piano 3, two pieces separated by ten years and both included here.
The other major piece is … from swerve of shore to bend of bay …, written in 1985 for flute, clarinets (Guy Cowley), percussion, piano, viola (Bridget Carey) and cello (Betsey Taylor) — another timeless though this time restful piece made up of gentle waves of sound.
There are three other equally fascinating shorter pieces: for piano 2 and finissys fifty both played affectionately by Ian Pace, and for guitar 1 played by Alan Thomas.
This is an attractive Emsley collection that provides a more or less complete portrait of the composer's identity. It is intriguing enough to keep the listener alert and surprised by the technical wizardry of composer and performers. It is also a gentle sonic embroidery that could invoke delicious sleep!" Patric Standford
American Record Guide, May/June 2003
"Richard Emsley claims an interest in non-teleological, non-goal-oriented music. Like Ivo Van Emmerik…Emsley manages to indulge his interests without writing boring music. The best track is the second one, Flow Form. This piece is all liquid grace, with clear but sophisticated formal characteristics. I also enjoyed the last track, The Juniper Tree. The repetition of material is a welcome relief from so much other modernist music than never gives the listener something to hold onto. Yet the amount of detail and nuance demands repeated listening. This is a nice disc that I intend to listen to many times." Unknown reviewer
Musical Opinion, December 2002
"Richard Emsley was 50 in 2001, so this disc is more than usually appropriate. In the early 1980s Emsley was associated with various new music ensembles, promoting the work of James Clarke and Michael Finnissy, amongst others, not least at Dartington. At the same time he was composing Helter-Skelter, for three players, and the ensemble piece, The Juniper Tree, which revealed different facets of his creative personality, though both are possibly indebted to the example of Morton Feldman. Subsequently, Emsley wrote the James Joyce-inspired …from swerve of shore to bend of bay… for the Fires of London, one of his most subtle scores, but the piano piece, Flow Form, was followed by a period of creative silence. The disc also reflects Emsley's latest productions, including For Guitar I, and especially a steady stream of pieces for piano. They add a new dimension to an essentially non-assertive, yet highly diverse personality." Unknown reviewer
---
In 2011 the German pianist Steffen Schleiermacher released a CD entitled British! on the MDG (Musikproduktion Dabringhaus & Grimm) label, with a programme including Emsley's for piano 1, for piano 12 and finnissys fifty alongside works by Laurence Crane, Michael Finnissy and Howard Skempton .
The CD can be purchased from mdt or Amazon.co.uk.
released July 2011 on MDG MDG6131634
Inactuelles – Musiques Singulières
Il s'ouvre et se conclut avec deux cycles de Richard Emsley intitulés "for piano 1" et "for piano 12", eux-mêmes émiettés en 8 et 7 très courtes pièces. La musique se réduit la plupart du temps à une seule voix à l'allure capricieuse, énigmatique. Série d'éclats égrenés à un rythme variable comme autant d'aphorismes sur le silence. On ne sait où l'on va, on va dans une atmosphère raréfiée tapissée par l'action de la pédale, suspendus à ces petites escalades sonores, à ces montées successives vers la lumière. Chaque pièce est une méditation, un moment pur, décanté, une invitation à participer au mystère du son se propageant dans la salle (le label MDG privilégie l'acoustique naturelle). Parmi les indications de "for piano 1", on lit par exemple "dolcissimo molto espressivo", "un poco nobilmente", "misty and dreamy, like a nursery rhyme", mais aussi "senza espressione sempre". Sept numéros seulement pour "for piano 12", plus proche peut-être encore de l'esthétique d'un Morton Feldman. Une découverte majeure, que je dois d'ailleurs à un "ami" d'un réseau social qui avait placé une vidéo avec un extrait de ce compositeur né en 1951, encore peu représenté sur disque. Je n'ai pas trouvé l'intégrale de ces "for piano"…Mais j'ai retrouvé avec grand plaisir Steffen…toujours sur la brèche ! Unknown reviewer
[This disc] opens and concludes with two cycles by Richard Emsley, entitled "for piano 1" and "for piano 12", respectively split into 8 and 7 very short pieces. Most of the time the music is pared down to a single voice, of a capricious, enigmatic character.  A series of bursts unfolding at a varying rhythm, like so many aphorisms about silence.  You don't know where it is taking you, you enter a rarefied atmosphere upholstered by the pedal action, hanging on these little runs of climbing sound, these successive flights towards the light.  Each piece is a meditation, a pure moment, spare, an invitation to be part of the mystery of sound spreading through the auditorium (courtesy of the natural acoustic favoured by the MDG label).  Among the expression markings to "for piano 1",  are dolcissimo motto espressivo, un poco nobilmente, misty and dreamy, like a nursery rhyme, but also senza expressione sempre. Seven numbers only for "for piano 12", perhaps even closer to the aesthetic of a Morton Feldman. A major discovery, that I owe to a "friend" on a social network, who had posted a video featuring an excerpt from this composer, born in 1951 and still woefully under-represented on disc.  I haven't found a complete set of these "for piano…" But it is with great pleasure that I have found Steffen again…  always at the cutting edge!
(Trans. Michel Robic)
Gramophone
Steffen Schleiermacher tells us that his knowledge of British culture derives in its entirety from TV crime dramas of the Midsomer Murders/Inspector Lynley variety, which presumably explains why these are the stupidest booklet-notes I've ever read. 'The British?' he asks. 'Are they the people who after a day at the bookmakers, do not retire to their homes but to the nearest pub? Once there, they gorge on salt and vinegar crisps and during a game of darts, get drunk on many a pint?' Cricket, village greens, tea, weather, gardening – Schleiermacher's insights into our 21st-century national psyche, each badly translated, continues apace. Now call me John Bull, but when it comes to dredging up such stereotypes, Germans are on uniquely shaky ground, unless there's something about their famous sense of humour I've missed. When he asserts, though, that British music remains aloof from developments in central European composition, Schleiermacher is on sturdier terrain, and only an outsider could – rubbish booklet-notes forgiven and brilliant playing to the fore – tell us so much about our musical DNA.
Let's further that 'crisp' analogy. Schleiermacher focuses on four composers who have stood determinedly outside the ready-salted mainstream. They're all pals: Finnissy's Tango is dedicated to Skempton, who dedicates four miniatures to Finnissy; Laurence Crane's Chorale is for Howard Skempton; a second Finnissy Tango is dedicated to Crane, who writes a Birthday Piece for Michael Finnissy. Only Richard Emsley has nothing dedicated to him.
So, poetic justice aplenty as it emerges that Emsley is the aesthetic pivot around which 'British!' swings. Because the real monkey-puzzle here has nothing to do with potato snacks, or Midsomer Murders in a post-John Nettles era, but why non-mainstream British music deals up zillions of notes or hardly any at all; how come Finnissy's 'complexity' and Skempton's 'simplicity' have more in common than either man has with, say, Oliver Knussen. Emsley jolts form out of alignment with content. Surface busy-ness is placed in tension with forms that evolve only gradually. That's scale not form, to quote Morton Feldman, whose Triadic Memories Skempton mined for the tightly meandering structure of Notti stellate a vagli, with its recurring, crinkle-cut melodic fragments.
What it is to be a 'British' composer following not the usual narratives but using Feldman, Cage, Satie, Ives et al to rethink basic notational principles. Perhaps a more appropriate title might have been 'British?'. Philip Clark
AllMusic
This curious little album focuses on four contemporary British composers, all working in dissonant but not serial idioms. Some have written quite violent music, but the pieces here have an intimate quality that comes in some cases from personal connections among the composers. Several pieces were written for the 50th birthday of composer Michael Finnissy, who in turn wrote pieces for Laurence Crane and Howard Skempton; Crane also dedicated his Chorale (1997, with the lovely performance indication "fragile") to Skempton. The music is mostly lyrical, and, with the exception of Skempton's Notti Stellate a Vagli (track 9), turns on a single technical device. Highlights include Finnissy's highly playful Sonata for toy piano (track 13), the pair of tangos by Finnissy, both stretching the rhythm drastically in different ways but remaining recognizably tangos, and the two collections of abstractly numbered but expresive and delicate short works by Richard Emsley, the only composer of the group apparently not linked in the chain of friendships. A major attraction here is the playing of German pianist Steffen Schleiermacher, one of the best there is in bringing expression to this kind of repertoire, which will be of most interest in academic settings. MDG's sound works very well within the intimate dimensions of the music. James Manheim